Services
Information on our Audit Trail Ties

All dimensions are in mm
The Litelines BT range are used to seal clinical waste bags and create an audit trail, which allows each bag to be tracked back to it's point of origin.
One of the pictures below illustrates how to swan neck the clinical waste bag, which ensures the bag is not over filled, improves the level of seal on the bag, and creates a convenient carrying handle.
The audit trail is created by the printing on the tag, which has two functions:-
The first two lines identify the Hospital or Trust and the usual format is to print the name on the first line, e.g. CORVILLE HOSPITAL, and a telephone number on the second line – this identifies where the bag has originated and gives a contact number – as illustrated on the adjacent lower picture.
The third line is a serial number, and by recording the batches of serial numbers (bags of 500 or cartons of 5,000) when issued to each department, this allows the audit trail to be completed.
---
Swan necking clinical waste bag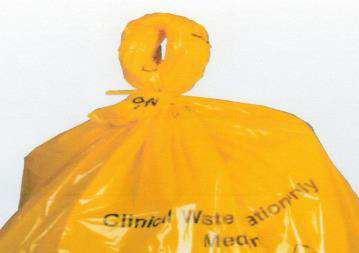 Printing on a BT tag

---
Applications
Sealing and audit trailing clinical waste bags
Material
Polypropylene
Average Breaking Strain
BT215 and BT265 18kg
BT200, BT250 and BT300 24kg
Packaging
Mats of 10 in bags of 1,000 in cartons of 5,000
Marking
Laser printing
2 Lines of text, each up to 17 characters including spaces
3rd line is a sequential serial number
Colours
Standard colours – black, white, pale blue and yellow
Other colours may be available on request
Shipping Specification
Carton Dimensions: 500 x 400 x 400mm
Carton Weight: 4 to 6kg